1/10 - LOSI - TENACITY MONSTER TRUCK, WHITE, AVC: 4WD RTR
Kort beskrivelse:
Seneste generasjon chassis fra Losi. Mye bil for pengene og utsyrt med børseløs motor på 3800Kv. Kan kjøres med 2 eller 3 cellers Lipo batteri.
Seneste generasjon chassis fra Losi. Mye bil for pengene og utsyrt med børseløs motor på 3800Kv. Kan kjøres med 2 eller 3 cellers Lipo batteri.
3 cellers anbefales kun til erfarne sjåfører da bilen med dette har en toppfart på ca 80 km/t. Biler er utstyrt med justerbart AVC stabiliseringssystem.
Bilen leveres komplett bortsett fra batteri og lader som du velger selv. Resten er med:
Komplett kjøreklar bil med lakkert karosseri
SPEKTRUM DX2E Active 2,4GHZ radio
Spektrum 6 kanals Surface-mottaker med AVC
Spektrum 9kilos digital, vanntett servo
Dynamite FUZE 130A sensorless fartsregulator
Spektrum DYNAMITE FUZE 550 børsteløs motor med 3800kV
4 AA batterier till radiosenderen
Manual
Du kompletterer selv med:
7,4V - 11,1V (2-3S) Li-Po batteri med EC3-kontakt
Batterilader beregnet på 2 - 3 celler
---
The Losi TENACITY MT delivers from the moment you open the throttle. Based on the TEN-platform, this brushless 4WD RTR features AVC to provide control as you near 50MPH (80 km/h!).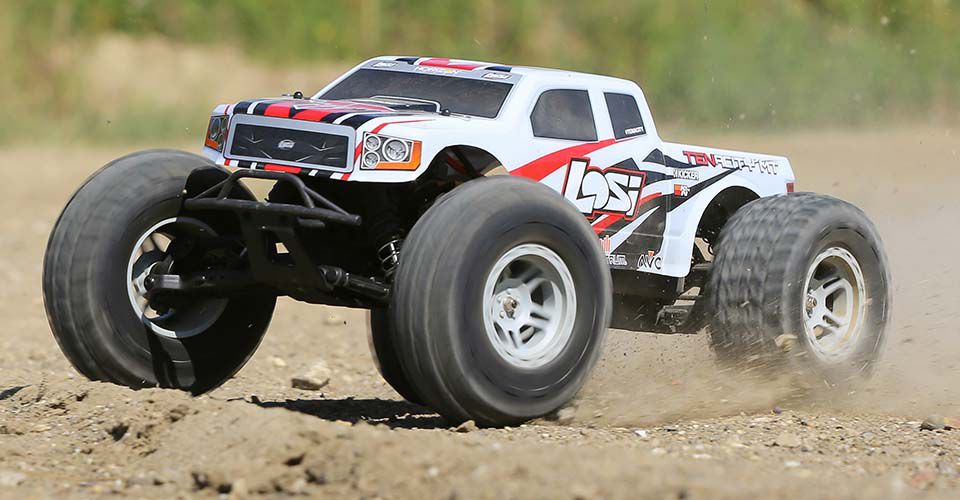 Needed to Complete
What's in the box?

7.4 5000mAh 2S 30C or 11.1V 5000mAh 30C 3S Hardcase Li-Po Battery with EC3

™

connector
Balance Charger capable of charging a 2 to 3 cell Li-Po with an EC3 connector

(1) Losi TENACITY MT 4WD RTR
(1) Spektrum

™

DX2E ACTIVE

™

2.4GHz Transmitter with AVC
(1) Spektrum 6-Channel DSMR

®

AVC Surface Receiver
(1) Spektrum 9KG 23T Waterproof Servo
(1) Dynamite Fuze

™

130A Sensorless Brushless Waterproof ESC
(1) Dynamite Fuze 550 Brushless Motor 3800Kv
(4) AA Batteries
(1) User Manual
The legendary TEN platform is now more accessible and affordable than ever-with easy-to-use features and the precise control of a Spektrum™ AVC® system. The 1/10 scale Losi® TENACITY™ Monster Truck RTR can reach speeds of 50+ MPH on 3S power. It's tough, fast and built to last whether you're bashing on the pavement or tearing across the terrain, wet or dry. You can even measure your speed with the optional speedometer that plugs into the included radio system. Choose the TENACITY for high power, high-speed fun.
TEN 4WD Platform

Based off the durable, high-performance TEN chassis, the TENACITY features a ladder-style chassis frame that provides excellent ground clearance and helps you tackle any terrain.

Dynamite 130A Brushless ESC and Fuze 4-Pole 3800Kv 550 Motor

The brushless ESC and motor provide crazy power with a 2-3 cell Li-Po (not included)-you can reach speeds of 50+ MPH on 3S power! The ESC is waterproof, completely programmable and comes pre-wired with a high-current EC3 connector. It works with most sensorless brushless motors and is 2S and 3S Li-Po and Ni-MH compatible.

Spektrum DX2E ACTIVE radio system with AVC

The TENACITY comes with a reliable Spektrum radio and the convenience of AVC (Active Vehicle Control). Also includes the SPMSRS6000 receiver with steering priority for superior control.

Speedometer Option

The Spektrum DX2E ACTIVE with telemetry lets you measure your actual speed via an optional speedometer that plugs into the DX2E ACTIVE.

Spektrum Dashboard

™

Mobile App

The Spektrum Dashboard Mobile application allows you to view everything from speed, motor or engine temperature, battery voltage and more. Simply snap in the mobile device mount and attached the Spektrum Bluetooth module and view real-time telemetry data like never before.

Full-Throttle Freedom of AVC Technology

When you're ready to let the brushless motor off the chain, don't hold back. The receiver's built-in AVC (Active Vehicle Control) system will make hundreds of tiny throttle and steering adjustments per second, so more of the motor's power is translated into ballistic speed and acceleration instead of just flying dirt.

Waterproof Components

All components are waterproof so you can run the vehicle in wet conditions. For details on waterproof standards, please refer to the product instruction manuals.

Center Differential

Unlike most 1/10th monster trucks, the TENACITY features a center differential that provides proportional power to each end of the vehicle regardless of conditions. This helps the truck accelerate and remain balanced in all types of conditions.

Bottom-Load Battery Tray

To help withstand the trials and tribulations of off-road driving, the TENACITY monster truck was built on a durable reinforced composite chassis with a bottom load battery compartment. Quickly and easily make battery changes without removing the body.




12mm Race Inspired Composite Bodied Shock Absorbers

These provide a high level of stability and control on even the roughest terrain.

Metric Hardware

Complete metric hardware is featured throughout the truck, including on all bearings, screws and nuts.

Spektrum FPV Mount

You get an FPV mount that lets you easily attach an All-In-One Spektrum FPV system. (camera sold separately)
Mer informasjon

| | |
| --- | --- |
| Produsent | LOSI |
| Biltype | Monstertruck |
| Skala | 1:10 |
| Lengde (mm) | 514 |
| Bredde (mm) | 343 |
| Høyde (mm) | 216 |
| Vekt (g) | 2800 |
| Kompletteringsnivå | RTR - Ready to Run |
| Inkluderte komponenter | Radio, Mottaker, Fartsregulator børsteløs, Motor Børsteløs, Servon |
| Kv (rpm/V) | 3800 |
| Antall celler Li-XX | 2-3 |
| Rek. kapasitet (mAh) | 5000-6000 |
| Kontakt | EC3 |
| Servotype | Analog |
| Motortype | Børsteløs - Inrunner |
Vi fant andre produkter du kanskje vil like!