Parkzone - T-28 Trojan 1.1m BNF Basic with AS3X and Safe Select
Kort beskrivelse:
En klassiker er tilbake. En enkel og morsom modell fra Parkzone. Perfekt på et mindre flyfelt, eller i parken. Lett å ta med. Denne nye versjonen har selvfølgelig AS3X og SAFE select.
En klassiker är tillbaka! En enkel och rolig modell från Parkzone. Perfekt för det mindre flygfältet eller parken. Enkel att handstarta. Lätt att ta med! Denna nya version har så klart SAFE Select och AS3X!
Detta är BNF Basic versionen. Komplettera med ack, laddare och din favoritsändare från SPEKTRUM. Resten ingår!
Fråga 1: Vad är SAFE?
Svar: Ett system som aktivt håller modellen horisontellt med hjälp av sensorer i mottagaren. Det begränsar också hur mycket modellen tillåts luta i höjd/skevled. Kan enkelt kopplas bort via en switch på sändaren. Vid bindning kan SAFE helt väljas bort om man önskar. Det är dock ett suveränt system även för oss med mycket flygerfarenhet. Mer avkopplande flygning speciellt vid start och landning.
Fråga 2: Vad är AS3X, ?
Svar: Ett 3-axligt gyrosystem som alltid är aktiverat i modeller med denna funktion. Jobbar ej aktivt, utan kompenserar endast för turbulens och vindkast när modellen störs. Systemet märks egentligen inte på annat sätt än att man upplever modellen som större än den är. Den påverkas helt enkelt mindre av vindkast osv. Kolla videon mer detaljerad information om SAFE och AS3X.
---
The legendary park flyer is back with the brand that made it famous. Now with optional SAFE® Select technology, the ParkZone® T-28 1.1m warbird carries on the tradition of simplicity and reliability with even better flying characteristics than before.
The original ParkZone® T-28 park flyer is practically a legend among the RC electric flight and scale communities. Originally in production for nearly a decade, its friendly flying characteristics revolutionized what warbird flying in the convenient settings of park is all about. As a result, thousands of hobbyists realized the potent benefits of brushless electric power and that flying a small well-engineered warbird was nothing to fear. It also confirmed that construction with EPO foam proved that airframes could be lightweight and surprisingly durable.
Now, and likely forever, the ParkZone® T-28 1.1m park flyer is the ideal model for solo pilots looking for the perfect first warbird. Distinctive in appearance, it's growling radial-engine look, clear bubble canopy and stout airframe deliver exciting fighter appeal. Engineering with durable EPO material keeps wing load exceptionally low to offer great flight performance that has no bad tendencies. Steerable trike gear provides easy ground handling and the low-mounted wing delivers the ideal blend of natural stability and sport aerobatics capability. The vivid U.S. Navy-inspired trim scheme adds a historic connection that's also easy to see while flying. Whether you want to enjoy low-wing agility at a local park, or just a fun sport-scale model to relax with, the ParkZone T-28 is the airplane you'll never want to leave at home.
AS3X Receiver with Optional SAFE Select Technology
This Bind-N-Fly® Basic model features a Spektrum receiver integrated with AS3X® (Artificial Stabilization – 3-aXis) technology to smooth out the effects of wind and turbulence for the remarkable sense of stability and precision larger, expertly tuned aircraft enjoy.
If you're a relatively new pilot or want an extra margin of safety while familiarizing yourself with the airplane, you can enable the optional SAFE® Select flight protection technology built into the receiver. No programming is required. Simply change up the binding sequence as directed in the manual.
With SAFE Select features enabled, you get:
Pitch and Bank Angle Limits
These keep the aircraft from rolling or pitching upside down. They also prevent excessive climb or dive angles during takeoff and landing.
Automatic Self-Leveling
Instantly returns the wings to level when the sticks are released.
Easy Switch Assignment-No Programming Required
The simple procedure for assigning a transmitter switch to turn SAFE Select features on and off doesn't require any programming and takes just a few seconds.
Needed to Complete
Full-range, 5+ Channel DSMX®/DSM2® Transmitter
1800–2200mAh 3S 11.1V Li-Po Flight Battery
3S Compatible Li-Po Charger
What's in the box?
(1) ParkZone T-28 1.1m BNF Basic Airplane
(1) Spektrum™ AR636 Receiver
(1) 480-size Brushless, 960Kv Outrunner Motor
(1) 30A Brushless ESC
(4) Micro-size Servos
(1) User Manual
Durable Construction
Construction with durable EPO material makes it possible to replicate complex detail in a lightweight form. The result is an outstanding scale appearance that's easy to maintain and allows the most satisfying flight experience possible to shine through.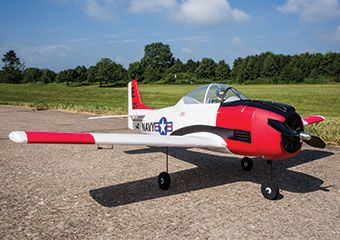 Brushless Power
The powerful brushless outrunner motor installed features 960Kv and delivers smooth operation that's surprisingly quiet. Excellent flight times and strong performance can be expected with 3S Li-Po battery packs from 1800–2200mAh. (Sold Separately)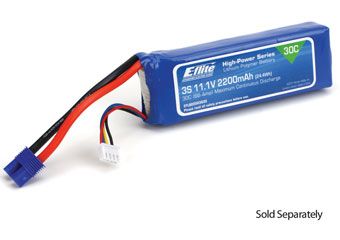 Tricycle Landing Gear
Steerable nose wheel and rugged wire landing gear allow for smooth ground handling, takeoffs and landings. For you hand-launch fans out there, the landing gear can be easily removed for flight that has higher performance and a more accurate appearance.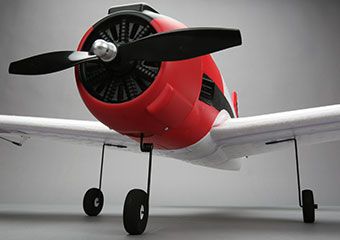 Mer informasjon

| | |
| --- | --- |
| Produsent | Parkzone |
| Kompletteringsnivå | BnF - Bind & Fly |
| Vingespenn (mm) | 1117 |
| Lengde (mm) | 914 |
| Vekt (g) | 850 |
| SAFE | Ja |
| AS3X - Gyro | Ja |
| Antall Celler | 3 celler |
| Kontakt | EC3 |
| Antall kanaler | 4 |
| Inkluderte komponenter | Mottaker, Fartsregulator børsteløs, Motor Børsteløs, Servon, Pilotfigur |
| Ferdighetsnivå | Nybegynner, Viderekommen |